Meal Plans
We offer a variety of meal plan options because we strive to cater for every body and every goal. With over 80 nutrition packed menu items, we make sure there's a meal plan to suit your taste and your lifestyle.
Need help reaching your goals?
Goal Based Plans
Find the perfect healthy meal plan to suit you. Built for those wanting to hit their next fitness goal.
Calorie Control
A low calorie, portion-controlled meal plan to keep you fuller for longer & achieve your weight goals
Muscle Gain
A protein packed, high calorie meal plan to build muscle and gain lean mass
Performance
A perfect balance of macros to support busy individuals and fuel active lifestyles
Know what you need?
Custom Meal Plan
Select the items you love in the quantities you need from our range of 80+ meals, snacks and sides using the Menu Builder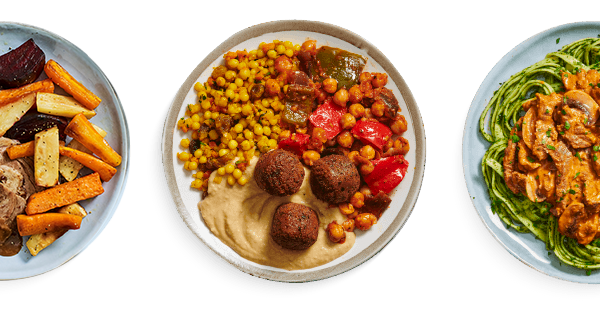 No time to decide?
Meal Packs
We've got you covered with our preselected packs.
Low Carb Collection
The perfect solution for anyone watching their carb intake. Every meal in this pack is delicious, has less than 20g of carbohydrates and is ready in minutes. Low carb snacks and protein shakes mean it's never been easier to stick to a low carb meal plan and love it. Enjoy the freedom this collection will bring you.
From $99.95
Low Calorie Shred Pack
This collection of low calorie, high protein meals is a great find for anyone hoping to get their body looking trim. Ready in minutes, it'll give you the time and energy to achieve your weight loss goals.
From $99.95
The Chef's Top Picks
You just can't beat the best. This pack is the perfect entry point for those new to My Muscle Chef or a great option for experienced campaigners who want to set and forget with the tastiest meals possible. This delicious mix of flavourful favourites and on-the-go protein is your tasty ticket to time back in your day.
From $99.95
Keto Friendly Pack
Looking to begin your keto journey? Our fixed set offers easy keto friendly meals are loaded with plenty of high fat, low-carb options. All meals have less than 15g of carbs per meal. Enjoy variety and taste with our delicious chicken, beef and lamb options.
From $134.95
High Calorie Best Seller Pack
High calorie and full of taste and nutrition. This high calorie meal plan contains 10 meals all with +450 calories per serve. Enjoy a range of chicken, beef and kangaroo meals to help fuel your high-intensity lifestyle.
From $99.95
Low Carb Pack
Light, fresh and full of flavour, our low-carb meal plan includes 10 specially designed low-carb meals all with less than 20g of carbs per meal. Enjoy plenty of variety with meals including chicken, beef, and lamb. Start putting the right fuel into your body with our low-carb meal plan.
From $99.95
Vegan Booster Pack
Vegan meal prep made easy. Enjoy 14 plant-based meals full of meat-free ingredients loaded with protein including falafel, tofu, lentils, beans and plenty of veggies.
From $129.95
Couples Lunch and Dinner Pack
Meal prep made for couples with 10 meals doubled for you and your partner. Save time and money on meal prep for two delivered directly to your home or office. Enjoy plenty of variety with chicken, beef, lamb, and vegetarian options all on the menu.
From $184.95

to make smarter decisions. With over 80+
macro ready made meals
,
high protein snacks
(including protein bites, keto bars, protein cookies) and
high protein shakes
to choose from, meal prep has never been easier to cover off breakfast, lunches and dinners.
Nutritionist built, professionally prepared by real chefs with locally sourced ingredients, our award winning ready meals are made fresh to order and delivered to cities including Sydney, Brisbane, Melbourne, Perth, Adelaide, and Canberra so you never have to worry about achieving a well-balanced diet.